Old Publications
---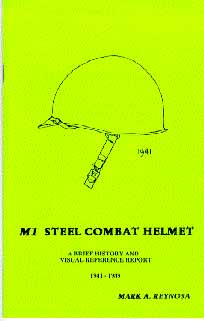 M1 Steel Combat Helmet
A Brief History and Visual Reference Report, 1941-1989
May 1988 - May 1990
Softcover 5.5" x 8.5" 28 pages
This is the first book to survey the entire history of the M1 helmet from its development in 1941 through all its changes up until 1989. Covered are the ground troops helmets, the parachutist helmets, helmet covers and netting. The book contains 28 line drawings including selected specification drawings and 5 color plates.
---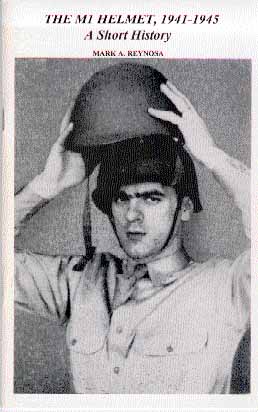 The M1 Helmet, 1941-1945
A Short History
January 1994
Softcover 5.5" x 8.5" 44 pages with 28 photographs
A book which covers the development, production and modification history of the M1 helmet during World War II. The book was compiled and written using only primary sources, both U.S. Government and private industry. The book covers developmental background, steel helmet body, fiber helmet liner, plastic helmet liner, parachutist helmet, and helmet camouflage. This book contains 36 pages of text, and includes 28 rarely seen U.S. Government and industry black & white photographs. A must for historians and collectors.
---
Articles
---
The Tin Hat
U.S. M1917/M1917A1 helmet
Submitted June 1992, Published January 1996 MILITARY ILLUSTRATED Number 92
Magazine Article 8.5" x 11.5" 2 pages with 2 photographs
When America entered the First World War, they had to quickly adopt a steel helmet. The model they chose was the British helmet. MARK A. REYNOSA describes the design and manufacture of the 'tin hat'.
---
Mark A. Reynosa
Copyright © 1988-2008 Mark A. Reynosa