M-1 Helmet Liners as Toys
The practice of companies placing defective M-1 Liners on the toy market continued into the early 1960's.
The two toy M-1 Liners below were acquired among a lot of vintage toys that were lightly used.
The first helmet is a 1963 Firestone M-1 Liner that has been rejected due to a misplaced rivet drill hole on the liner shell. An inspector's yellow circle mark can be seen to indicate the problem. Apparently the helmet was completed before the problem was found. The helmet was found with a toy manufactured headband attached which is clearly marked with an embroidered tag "Made in Japan". A chin strap was fastened from a camouflage helmet band that was cut and had snap fasteners applied.
48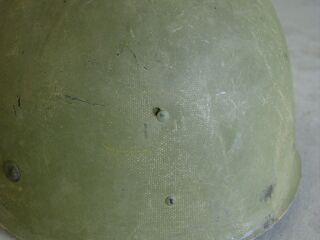 49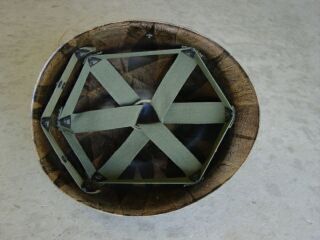 53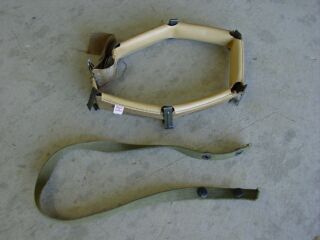 55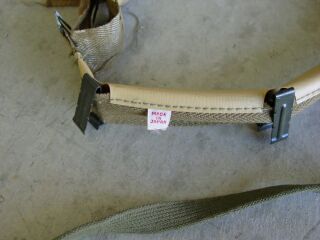 ----
The second helmet is a 1963 Marmac M-1 Liner that has been rejected due to misalignment of the rivet drill holes on the liner shell or a shortened perform edge on the helmet brim. The helmet was subsequently converted to a toy helmet with elements of the suspension being non standard, and the only standard webbing being sewn together from multiple scraps. The origin of the exterior paint job is unknown. The center white block contained a standard U.S. shield that was significantly faded before it simply disintegrated.
52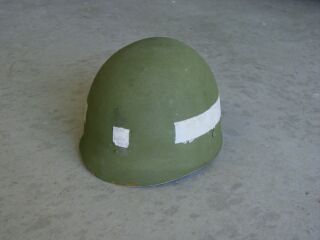 50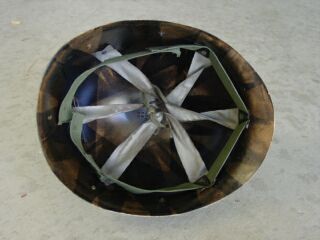 51