Van Nuys Airport
Lockheed Plant Site
last updated 01/05/2005
---
Site Plan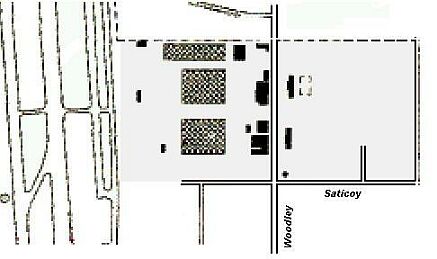 ---
Navy-Lockheed Service Center
(1944-1946)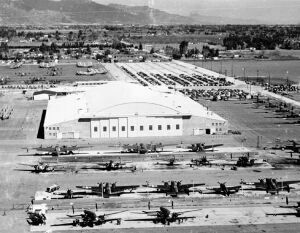 Production Flight Test
Lockheed PV-2 Harpoon
Modifications of Navy Aircraft
Consolidated PB4Y Liberator
Consolidated PBY Catalina
General Motors FM-2 Wildcat
Grumman F6F-5 Hellcat
Grumman F7F-3 Tigercat
In late 1944, Grumman at Bethpage, NY, began production of the Grumman F7F-3 Tigercat. In addition to the single seat fighter variant, two additional variants were called for by the Navy, the Grumman F7F-3P Tigercat (photo-recon) and the Grumman F7F-3N Tigercat (night-fighter). To expedite production all aircraft were completed as F7F-3s at Grumman Bethpage, NY. Subsequently, the Ps and Ns were accepted at Grumman and ferried to the Navy Lockheed Service Center in Van Nuys, CA, where they were completed for final delivery to operating units.
Aviation Maintenance Corp.
(1946-1949)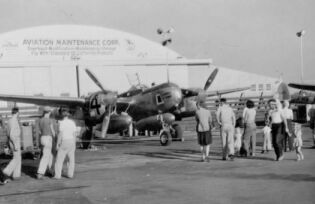 After World War II the site was taken over by Aviation Maintenance Corp. which preformed overhaul modification maintenance and storage. During this period the site was also the West Coast starting point for the Bendix Air Races in 1946 and 1947.
Lockheed Plant B-9
Production Flight Test Center: Jet Aircraft
(1949-1954)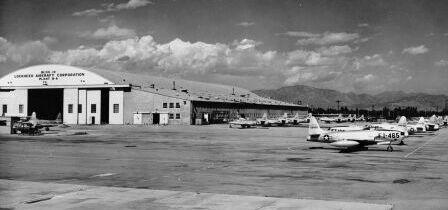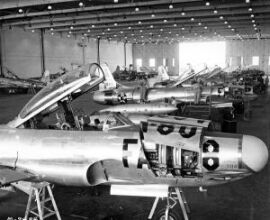 Production Flight Test
T-33
F-94
Production
T-33A
(one of three plants producing T-33As)
(Burbank, CA; Van Nuys, CA; Palmdale, CA)
First Flights at Van Nuys Airport
Lockheed TP-80C (T-33A): March 22, 1948
Tony LeVier
Lockheed YF-94: April 16, 1949
Tony LeVier, Glenn Fulkerson
Center closed in 1953, following the crash of a T-33A at Van Nuys. Lockheed transferred all jet production flight test to Palmdale, CA.
Lockheed Plant B-9
Missile System's Division
(1954-1960)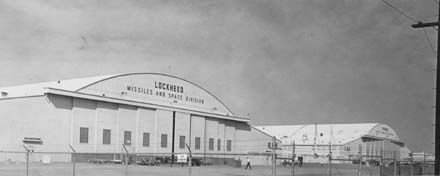 Employment
1956 3,000
Missile Systems Division organized in late 1953. Division moved to Van Nuys in 1954. Division moved to Sunnyvale, CA starting in 1956 and completed by 1960 as part of the DoD plant dispersal policy.
Lockheed Plant B-9
Modification Facility
(1960-1964)
Lockheed preformed modifications and systems upgrades to the original production batch of U-2As at the facility, converting the U-2A to U-2Cs and U-2Fs for the USAF and CIA.
Lockheed Plant B-9
Helicopters
(1964-1971)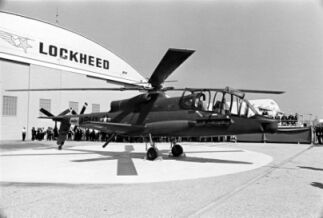 Production
AH-56A Cheyenne
First Flights at Van Nuys Airport
Lockheed AH-56A: September 21, 1967
Contract was cancelled in August 1972.
Lockheed Plant B-9
(1974)
Closed
---
In 1975 the site was handed over to the City of Los Angeles, Department of Airports, who immediately divide the site into two parcels. The west parcel and the east parcel divided by Woodley Avenue.
The west parcel including the two large hangars Bldg. 901 and Bldg. 902 continued air operations and were leased to numerous companies.
In 1975 both hangars were leased by American Jet.
By 1982, Bldg. 901 (southern most hangar on Saticoy Street) became the home of Hughes Aircraft Company, Flight Test Operations. (They had moved from their previous location at the Hughes Aircraft Company plant airport in Culver City, CA.) With the purchase of Hughes' Radar Systems Group and Missile Systems Group by Raytheon in 1996, Bldg. 901 then became the home of Raytheon Flight Test Operations.
By 1982, Bldg. 902 (northern most hangar) became the home of Volpar Inc. Volpar performed engineering and interior modifications for various commercial and military aircraft. In 1984, Bldg. 902 was leased by Syncro Aircraft Interiors.
The east parcel containing a large employee parking lot and vintage World War II brick buildings became the Los Angeles International (LAX) Airport Flyaway. One of the buildings become the terminal and the lot became a remote passenger lot for LAX. Flyaway buses provided daily roundtrip services to and from LAX.
---
Related Sites
Copyright © 2003-2005 Mark A. Reynosa
Feel free to send questions or comments to