Van Nuys Airport
Northeast Site
last updated 01/05/2005
---
Site Plan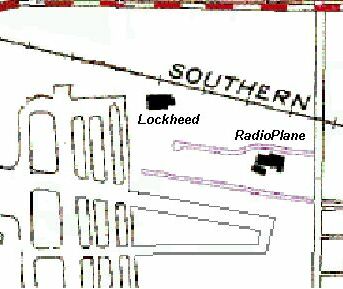 ---
Lockheed
Production Flight Test Center: P-80
(1946-1949)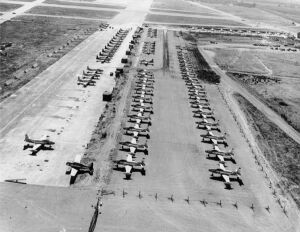 View looking west, post 1946. Lockheed P-80 Production Flight Test ramp.
Production Flight Test
P-80
In September 1946 Lockheed moved its P-80 production flight test to the northeast corner of Metropolitan Airport. An existing hanger built during World War II was utilized and an L shaped run up ramp established for the Lockheed P-80 Shooting Star.
In the Spring of 1947 the Lockheed Skunk Works team headed by Kelly Johnson modified the Lockheed XP-80B prototype to become the Lockheed XP-80R "Racey" at this facility. On June 19, 1947 this aircraft would set a new world speed record of 623.738 mph at Muroc Dry Lake.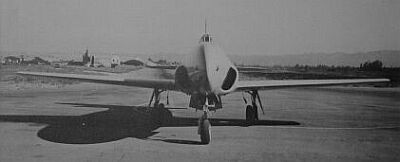 Lockheed XP-80R "Racey" at the Van Nuys modification facility in 1947. View looking south.
---
Bach Aircraft Company
(1929-1931)
Late in 1928 the Bach Aircraft Co. moved from its original plant at Santa Monica, CA and took a lease on a 9 acre site at Metropolitan Airport. At the site a large manufacturing building was constructed.
The company produced a three-motor type transport monoplane with a capacity of 8 passengers and 2 pilots.
1931 - Reorganized as Aircraft Production Corp.
Kinner Airplane & Motor Corp.
(1933-1939)
1933 - Kinner Airplane & Motor Corp. moved from Downey, CA.

1937 - Bankruptcy, aircraft manufacturing rights sold to Timm Aircraft Co.

Timm Aircraft Co.
(1939-1942)
1939 - Timm Aircraft Co. took over plant site from Kinner Airplane & Motor Corp.
The Timm Aircraft Corporation introduced a method of aircraft construction that involved the use of a plastic-bonded plywood which they themselves had developed. In 1940 they designed a two-seat light aircraft using this material, which came to be known as the S-160-K.
In March of 1942 Timm relocated to the central west side of Metropolitan Airport after the U.S. Army Air Forces had expanded the runway facilities.
First Flights at Van Nuys Airport
Timm S-160-K Aeromold: May 22, 1940
Radioplane Plant
(1942-1952)
8000 Woodley Avenue
Van Nuys, California
Due to increased production, and the diminishing lack of space, it became
necessary in March 1942, for the Radioplane Company to move to larger quarters in
Van Nuys, CA from there previous location in Venice, CA.
In March of 1942 Radioplane moved into the former Timm Aircraft Plant.
The Radioplane Corporation, manufactured radio-controlled miniature planes used by the U.S. Army for anti-aircraft practice. The corporation was owned by actor Reginald Denny.
In the spring of 1945, Norma Jeane later known as Marilyn Monroe was discovered at the Radioplane Plant by a U.S. Army Photographer Private David Conover. USAAF Captain Ronald Reagan had sent Private Conover to Reagan's friends plant to photograph Women War Workers.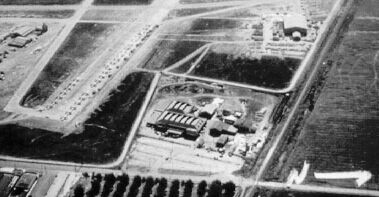 Aerial View of the Radioplane Plant, in foreground, looking west in 1946. Lockheed P-80 Production Flight Test hangar is at upper right. P-80 ramp is on left.
Radioplane Division
of
Northrop Aircraft
(1952-1962)
In July 1952, the Radioplane Company was purchased by Northrop Aircraft Incorporated.
In August 1959, this subsidiary became the Radioplane Division of Northrop Corp.
One of the last projects undertaken at this location was a contract to produce the Gemini Paraglider for NASA's Gemini Program.
Production
45,000 drones for the U.S. Military Services
---
Davis Automobiles
(1947-1949)
8055 Woodley Ave.
Van Nuys, California
1947 - Timm Aircraft Corporation leased plant to Davis Automobiles.
---
On September 21, 1967 the east end of the east west runway was the site of first flight of the Lockheed AH-56A.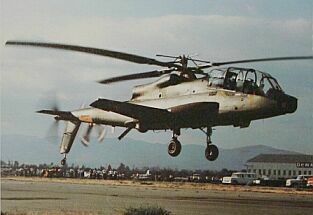 First flight of the AH-56A on the east end of the east west runway . View looking northwest.
By 1969 the east west runway was no longer active. Western Commander opened a 7.5 acre "Jet Center" with two new large hangars built on top of the former east end of the runway.
---
Related Sites
Copyright © 2003-2005 Mark A. Reynosa
Feel free to send questions or comments to