Van Nuys Airport
Marquardt Plant Site
last updated 01/22/2005
---
Site Plan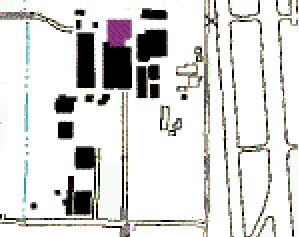 ---
Timm Aircraft Co.
(1942-1947)
In March of 1942 Timm relocated to the central west side of Metropolitan Airport.
The Timm Aircraft Corporation introduced a method of aircraft construction that involved the use of a plastic-bonded plywood which they themselves had developed. In 1941 they designed a two-seat light aircraft using this material, which came to be known as the S-160-K. The U.S. military took an interest in the aircraft because it used non-conventional materials in its construction. The U.S. Navy tested two aircraft and eventually issued contracts for 260 models that were designated the N2T-1 Tutor. Deliveries of the N2T-1s began in 1943, and they remained in use as primary trainers until towards the end of 1944.

In July 1942, the U.S. Army had given 16 companies contracts to build the Waco designed CG-4A. The Timm Aircraft Corporation received one of these contracts. Between 1942 and 1944 Timm produced 433 CG-4A-TI gliders.

In 1943 Timm Aircraft Corp. built the sole XCG-4B (42-46394), in which metal was excluded from the structure.
Production
Timm N2T-1 Tutor (262 aircraft produced)
Timm CG-4A-TI glider (433 aircraft produced)
Timm XCG-4B glider (1 aircraft produced)

---
Marquardt Corporation
(1948-2001)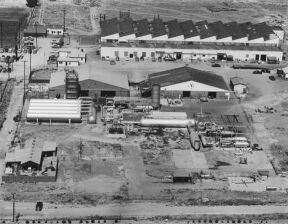 Aerial view of the Marquardt site looking west in 1952. The original Timm Aircraft manufacturing building with saw tooth roof is seen in the background. In the foreground are the Timm Aircraft hangars.
In November 1944 Marquardt Aircraft was established in Venice, CA.
In 1949 Marquardt outgrew its Venice plant, and leased the former Timm Aircraft facility. In order to pay for the move to the larger facility, Marquardt sold a controlling interest in the company to General Tire and Rubber Company. General Tire and Rubber was not satisfied with the purchase and sold their interest to Laurence Rockefeller in 1950.
In 1952 Marquardt was involved in a number of projects, and developed the Marquardt RJ43-MA-11 ramjet engine.

The RJ43-MA-11 was developed in supersonic wind tunnels at Marquardt's Van Nuys, CA test facility, flight tested on the Lockheed X-7A-3 at Holloman AFB, Alamogordo, NM, and deployed operationally on the Boeing Bomarc B and later on the Lockheed D-21 for USAF / CIA SR-71.
The late 1950s' and early 1960's saw the plant hit peak production of ramjets.
In the late 1960's Marquardt provided attitude control thrusters for Apollo's Service and Lunar Module. Each unit for the Modules employed four quadruple clusters of R-4D attitude control thrusters.
In the 1970's Marquardt was known for small rocket engines and thrusters. Numerous US space vehicles and satellites used their designs, eventually including a major win for the Space Shuttle program.
For the Space Shuttle program, Marquardt provided 44 thrusters used on the Space Shuttle Orbiters. For each Orbiter their were 38 Marquardt R-40A and 6 Marquardt R-1E control trusters.
In 1983 the company was purchased by the ISC Defense and Space Group, and began production of cluster bombs, laser guided munitions, and electronics for nuclear development.
In 1987 ISC was purchased by Scotland-based Ferranti.
After Ferranti went bankrupt in 1991, Marquardt was split in two. The Marquardt Jet Laboratory, building rocket thrusters at the Van Nuys plant, was sold to Kaiser Aerospace, while the Marquardt Manufacturing Company disappeared.

KAISER MARQUARDT
16555 Saticoy Street,
Van Nuys, California
91406-1739
Telephone: (818) 989-6400
Fax: (818) 994-2947

On June 14, 2000, Primex Technologies, Inc. announced completion of its acquisition of Kaiser Marquardt.
Shortly thereafter the Van Nuys Plant closed in 2001.

In February 2002 the Plant was demolished.
Production
Marquardt RJ43-MA-11 ramjet engine
Apollo's Service and Lunar Module attitude control thrusters
(16) Marquardt R-4D
(~800 thrusters produced)
Space Shuttle Orbiter's attitude control and orbit adjust thrusters
(38) Marquardt R-40A (6) MarquardtR-1E
---
Related Sites
Copyright © 2003-2005 Mark A. Reynosa
Feel free to send questions or comments to